It is extremely important that parcels are correctly and securely packaged. Poorly secured items are at risk of breaking, mid-transport, meaning that your business may have to issue refunds to customers.  We will be discussing how to properly ship fragile items in this blog.
We have a great page that will guide you on how to package items correctly. 
What to do
Use cardboard dividers within the packaging 

Make sure that the heaviest items are safely secured at the bottom

Label all fragile items with the correct labeling

Prepare in advance – you do not want to rush packaging last minute

Package with care – make sure everything being packaged is in the correctly sized container
By using all of these tips above, you will be able to package your fragile items better and make sure that there is a lower chance of them breaking/ being damaged.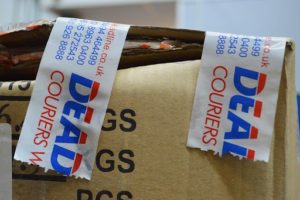 Below are examples of what you should NOT do when  packaging parcels fordelivery.
What not to do
Never package your parcels in an oversized container. This will increase the risk of your item inside  being knocked at some point within the journey and possibly being damaged.

Underprotecting your package is a huge mistake that you must take every precaution to avoid; your products could be damaged.

Make sure that the items labeled correctly. This could include food ingredient labels or labels showing the fragility of the products.

Not using enough cooling products when packaging perishable goods and pharmaceutical items.If the cooling products melt, your products are at risk of heating and spoiling.You can view our Temperature Controlled Couriers

here

.
For a quotation on our courier services please email us at enquiries@deadline.co.uk or submit a quote request or contact your local office.