Celebrating 5 Years as a CarbonNeutral Company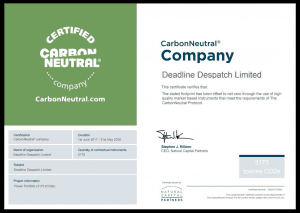 Now in our 6th year of registration as a CarbonNeutral company – our emissions for 2018 have recently been calculated.
We are dedicated to the principles of sustainability demonstrated through our continued CarbonNeutral registration.
We are committed to reducing our environmental impact and managing our growth responsibly. Our footprint last year was 1220 tonnes compared to 1727 in 2013, demonstrating a reduction of 29% over the 6 years, despite a substantial increase in turnover over the same period.
This reduction has been achieved with the use of solar panels and LED lighting at our depots, and converting to 100% renewable energy. We continue to update our fleet with low emission Euro6 vans and hybrid cars, and evaluate the development of fully EV vehicles for the future.
We use suppliers who are CarbonNeutral whenever possible.
Our aim is to reduce our emissions by a minimum of 3% per annum over the next 5 years.
The carbon we produce is 100% offset using the Jath wind power project in the Sangli district of India. This is arranged through www.naturalcapitalpartners.com
The project generates 90,000 tonnes of emission reductions per year.
In recognition of these achievements we were awarded our certificate CN2014055525, and this year awarded a trophy for reaching our 5 year milestone.
Our full Environment Policy is available in the footer of our website.
Read More