Curtain Side Fleet
We want to be able to provide our customers with variety and choice over how we deliver their consignments and what we are able to deliver for them. That's why we believe it is important to provide you with a NEW vehicle option for your deliveries. Our curtain side fleet are available and ready to book now.
If your deliveries would benefit from covered bodywork and protection from the weather and a high volume load space for your cargo, but need more loading flexibility – then our curtain side fleet could be the answer.
The massive advantage of these vehicles is that not only can your cargo be loaded through the full width shutter at the rear, but we are also able to load through the heavy-duty curtains that make up the body sides.
These curtains can be positioned so that the cargo can be loaded by forklift from either side at both the front and the back. As we have a fleet of these vehicles, it does not matter if you do not have access to a forklift as we can provide a curtain side with a tail-lift.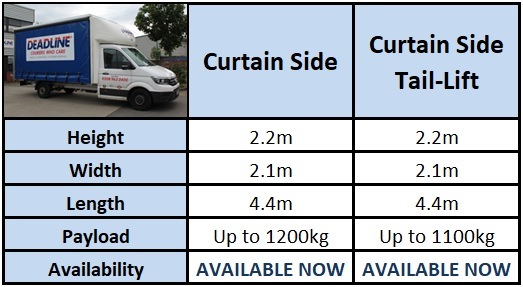 Please phone your local office to book yours in now – don't miss out on our brand new fleet!